The country's major banks are fuming they'll be left picking up the tab for soured PE investments under proposed changes to the small business growth fund.
You've got to hand it to private equity practitioners. There are few that can hold a candle to them when it comes to working out ways to profit at the expense of unwitting taxpayers.
So it should come as no surprise that the denizens of private equity have found an ingenious way to benefit from Scott Morrison's $520 million small business growth fund.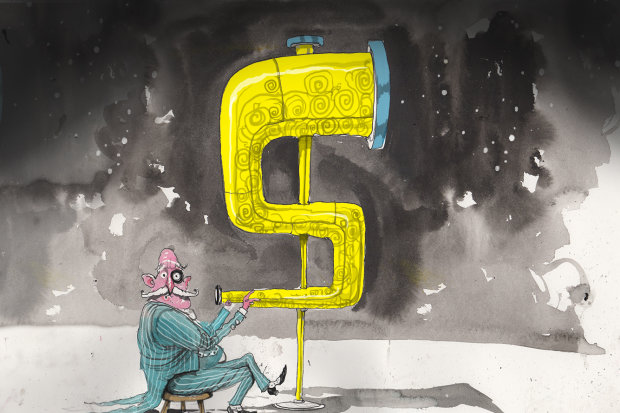 Readers with good memories will recall that National Australia Bank, ANZ, Commonwealth Bank and Westpac (albeit with varying degrees of enthusiasm) all agreed to tip in $100 million of capital for the new fund, with Canberra ponying up with a further $100 million in taxpayer funds. HSBC agreed to contribute an extra $20 million.
Canberra's grand plan is that the fund will use this capital to make equity investments of between $5 million and $15 million in small businesses (defined as having annual revenues ranging from $2 million to $100 million). In return, the fund will take a stake of between 10 per cent and 40 per cent of the business.
Small business will benefit from the fund because improved access to equity will allow them to expand their operations, and employ more people. It will also reduce their financial risk, because they will be less dependent on debt funding.
But private equity has objected strenuously to the proposed fund on the grounds that it  could potentially crowd out private investors who are interested in taking an equity position in smaller businesses.
As a result, private equity is lobbying to change the rules of the game. And in a way that is much more favourable to its own interests.
Instead of using the money to directly invest in small firms, private equity would like to use the money to underwrite its own investment – and that of other private investors – in small businesses.
It's an infinitely better arrangement as far as private equity is concerned.  Small businesses are notoriously risky investment propositions, which suffer from a much higher failure rate than larger firms.  But those small businesses that do succeed are capable of generating eye-watering returns.
Taxpayers to pay for losses
It's not hard to see how advantageous it would be for private equity firms to have any investment losses they suffer from investing in small businesses underwritten by the country's big four banks  and luckless taxpayers.
And, at the same time, private equity firms would still be in a position to enjoy huge profits whenever small businesses flourished, and their stake in the firm became worth many multiples of the amount originally invested.
Not surprisingly, small businesses are less than enthusiastic about private equity's new scheme. They've experienced how costly it is to raise equity from hard-nosed private investors, and how large a stake in their businesses they're forced to give up in exchange for a dismally small amount of funding.
Needless to say, the country's big four banks – some of which had to have their arms twisted before they grudgingly agreed to participate in the fund – are  dismayed at the prospect that their capital could be used to reimburse private equity investors for any losses they incur on their investments in small businesses.
Bankers point out that private equity firms are typically interested in investing in larger firms than those targeted by the new fund.
They note the usual modus operandi of private equity is to strip out costs from the business, and to boost debt levels, before onselling the business at the profit.
Which is exactly the opposite to the patient capital that Canberra is hoping that the new fund will provide.
What's more, bankers note that the banking regulator, the Australian Prudential Regulation Authority, agreed to give the banks' investment in the fund a favourable capital risk weighting of 250 per cent.
But APRA's favourable treatment is conditional on the fund investing in a diverse portfolio of small- and medium-sized businesses. It's extremely likely that APRA would look askance at the fund if there's any suggestion the banks' capital could be used to absorb the losses incurred by other private investors.
Who needs private equity anyway
What's more, bankers argue, it's far from clear that small businesses need expensive funding from private equity.
Given sluggish demand for credit, the major banks are competing vigorously to lend to small- and medium-sized firms.
At the same time, a range of new competitors have sprung up. Not only is challenger bank Judo Bank targeting the SME sector, but an array of fintechs – including Prospa, OnDeck and Moula – are also offering loans to small business.
In its latest half-year result, the Commonwealth Bank said lending by its business and private banking division increased 1.5 per cent in the second half of 2019, compared with the same period a year earlier.
The country's largest bank said it had boosted its lending to certain segments of the small business market – hospitality, property investment and business services – by an impressive 5 per cent.
One of the bank's priorities is to increase its ability to lend to small businesses on the basis of their cash flow, rather than requiring borrowers to provide security for business loans. Its BizExpress product allows existing customers to borrow up to $1 million, with a simplified loan approval process.
Crowded market
This month, Mike Vacy-Lyle, who previously ran the largest commercial bank in Africa, took over as the head of business and private banking at CBA.
Meanwhile, the National Australia Bank, which enjoys the leading position in the SME lending market, is fighting hard to retain its dominance. In the 2019 financial year, NAB increased its SME lending by 3.5 per cent, compared to the average increase of 0.4 per cent from its three major rivals.
NAB has a 25 per cent market share of small businesses which have turnovers ranging from $100,000 to $5 million, and it commands a 28 per cent market share of slightly larger businesses – where the turnover is between $5 million and $50 million.
NAB has also shifted heavily towards unsecured lending, rather than requiring small business borrowers to provide security (usually the family home) if they want a loan.
NAB's main online product for SMEs is QuickBiz, which provides unsecured business loans of up to $100,000 (or up to $150,000 for equipment financing). Almost half of the bank's new small business lending now occurs through the QuickBiz product.