Tony Dench is one of some 277,000 business owners in Australia hoping the Coalition's new wage subsidy package will help him keep his workers employed.Business "dropped off a cliff" over the past fortnight at the family-run Dench Bakery, as the virus crisis hit both its cafe and wholesale bakehouse in Melbourne's inner north, forcing Mr Dench to cut the hours of over 70 staff.

"In the bakery, we have around 50 full-time employees and because of the downturn in the last couple of weeks, most of them have been cut to two to three shifts," Mr Dench said.
"Everybody in production, from customer service to our sales reps to our drivers and our bakers and pastry chefs, they've all dropped their hours.
"Many are essentially sharing a job, [where] one person used to do four shifts per week, two people now do that much work."
Staff in the cafe – where Mr Dench's father works too – have also dropped their hours or lost shifts completely.
Three or four staff have been let go across the business, while a couple have left to try to find work with more hours elsewhere.
The subsidy – under which the government pays eligible employers $1500 a fortnight to pass onto staff – is a much-needed lifeline for small business owners like Mr Dench.
"We will definitely make use of what the government is offering because otherwise we will have to lose a lot of people," Mr Dench said.
"Every little thing helps, and if you put all the bits and pieces [of government relief] together hopefully you survive."
At Dench Bakery, some staff were already receiving around $1500 a fortnight under their reduced hours, while some may get more as the policy dictates that workers get the full $1500 regardless of whether they usually earn less than that.
The government is anticipating the $130 billion economic package will help about six million workers over the next six months.
Nick Yannas hopes his workers will be among those six million.
Mr Yannas, who owns Volume Hair, which employs about 20 staff, and Punk Carla, which employs about five staff, both on Melbourne's trendy Chapel Street, had already registered both businesses for the subsidy.
He said the subsidy was a "huge game-changer".
"I want to try keep everybody employed – that's my ultimate goal," he said.
"It's a great incentive for us to maintain our staff and keep them going and I think it's a big relief for them and for me as a business owner."
But the wage subsidy won't cover all his staff as some are visa holders.
"They don't qualify [for the Jobkeeper wage subsidy] so they're in limbo. From my perspective, I'm trying to keep open to keep these guys earning an income so they can survive," he said.
Subsidies key to recovery
New Zealanders can access the money, but workers on temporary visas from elsewhere in the world cannot.
For Kerrie Batrouney, who owns Carlton cafe Vincent the Dog, the subsidies may prove vital to how quickly the business can recover when the crisis passes.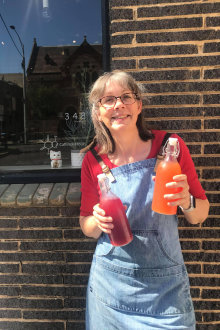 She said utilising the government assistance would allow her to keep the cafe's chef and some wait staff onboard into the recovery stage.
"We'd obviously want our staff back if we can, that would help us when business picks up again," Ms Batrouney said, who only bought the cafe in January.
"We were just starting to do better every week as people got to know us and got to see what we were doing, and our staff helped with that."
But the cafe's recent change of ownership could mean its employees do not qualify for the subsidies, although Ms Batrouney hopes the government shows flexibility.
To qualify for the subsidies, businesses need to be able to prove they have lost 30 per cent – or 50 per cent if they bring in over $1 billion annually – of their revenue over a one month period compared to last year.
"We can quite easily show that compared to the second week in March this year, we have dropped 80 per cent of our revenue. But We cannot prove that we are reduced 30 per cent compared to last year as we didn't have the business then," Ms Batrouney said.
The subsidy will also help Dench Bakery hit the ground running once the economy starts to recover, Mr Dench said.
"It means we won't lose as much skill. We'll be able to scale up quicker by not having to teach, train and source new staff, and of course the training and hiring cost is significant.
"We won't have the advertising costs, the training costs, or the mistakes that happen with a new person."
But he thinks the bakery will never return to full capacity:
"I can see us getting back 70-80 per cent of the business we had before, but not 90 or 100 per cent ever, or not for a very long time," he said.